PRIVATE LESSONS are the most effective way to learn how to dance! Its the fastest way to obtain your dancing goals, immediately giving you comfort and clarity with your new skill.
During your one-on-one private lessons you will receive personalized instruction focused on your needs. Whether you are a social or competitive student, our instructors will customize each lesson and ongoing program to your personal goals and desires. Every new student's first private lesson is free…our compliments!
GROUP DANCE CLASSES are great way to learn different dance styles, pick up fun moves, meet new friends and get in shape in a fun group atmosphere! You will have an opportunity to dance with various partners throughout the class, there are always people and instructors who are ready and willing to dance with you! Group classes focus on learning proper technique and movement, partnering skills, choreography, fitness and performance. We have classes for beginners through advanced students.
FITNESS CLASSES
great opportunity to get your body perfectly prepared to summer time!!!
Body sculpting through an intense, low impact total body workout using gym apparatus such as weights & bands.
Attack the fat with a fat blasting combination of cardio & toning work for a lean & sculpted body. Options given for each set of exercises so you can work at the level that's right for you.
YOGA CLASSES
The classes help to balance, detoxify and exhilarate mind and body. Our classes will make you move, breath, and sweat irrespective of your age, flexibility, and strength.
Weighted Yoga™ is a fitness yoga class, using added resistance to sculpt your body superfast. Traditional postures, meditation and gratitude techniques are also incorporated. All levels welcome, male and females, no experience required.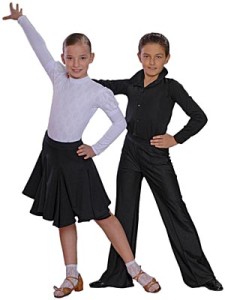 Стоимость занятий бальными танцами для детей составляет 12 евро – 1 занятие или 75 евро  в месяц. Что касается формы для тренировок, то это, как правило, классический стиль, но наиважнейшим критерием должно быть удобство. Мальчики тренируются в рубашке или футболке из тянущегося материала и брюках, девочки – в топе или блузке по фигуре и короткой свободной юбке. Танцевальная обувь должна быть удобной, лёгкой и натуральной. Для детских бальных танцев лучше всего подойдут чешки