---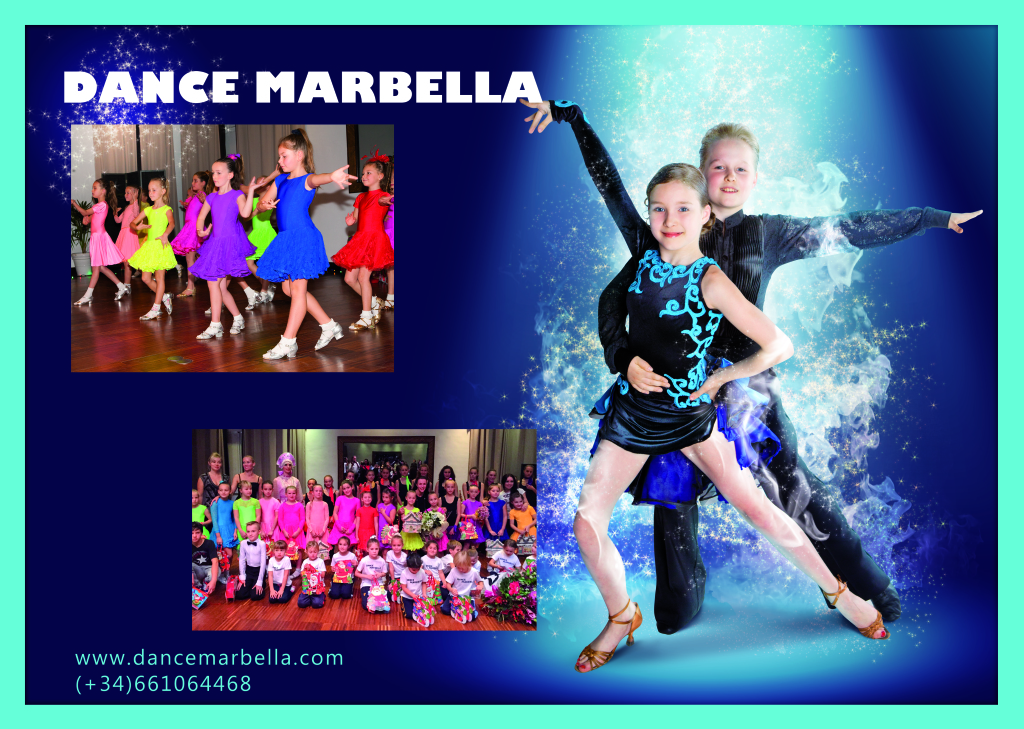 Dance school "DANCE MARBELLA" is happy to announce a lot of new different classes – JAZZ , Baby class ( from 3 years old), Sexy Cardio ( from 18 y o ), Pole dance and many others!!!
for children and adults !!!!
we have a lot of age groups :
– Baby 1 ( 2,5-3,5 years old)
– Baby 2 ( 4-5 y.o.)
– Kids 1 ( 5-6 years old)
– Kids 2 ( 7- 9 y.o.)
– TEENS ( 10 + )
– Adults

Different dance styles and rhythms ! modern and classical music !
great atmosphere and a lot of fun !!!! Make new friends and get your body ready for the summer !
---
new BOOTY CAMP at Dance Marbella with a great instructor Lisa Marie !!!
Lisa Marie teaching her Booty Camp in Marbella, for girls to get hot and sexy fast.
All levels welcome, including beginners.
Lisa has over 20 years experience in teaching and coaching, she also is a highly experienced Personal Trainer in Marbella and Sotogrande.
Lisa´s Boot Camps run in the morning before work or after you have taken the kids to school.
for more info please contact :  722715527
---
An awesome BOOTY CAMP with Lisa Marie Robinson every Monday, Wednesday and Friday at 9.30
the way to get the best results during short time…
---
Teenagers from Dance Marbella presenting their "JIVE " at the Dance Festival "Unidos por el baile"
Don´t miss the opportunity for your kids to learn this one and many other dances at DANCE MARBELLA SUMMER CAMP 2015
for more info – please contact us : +34661064468
www.dancemarbella.com
info@dancemarbella.com
---
---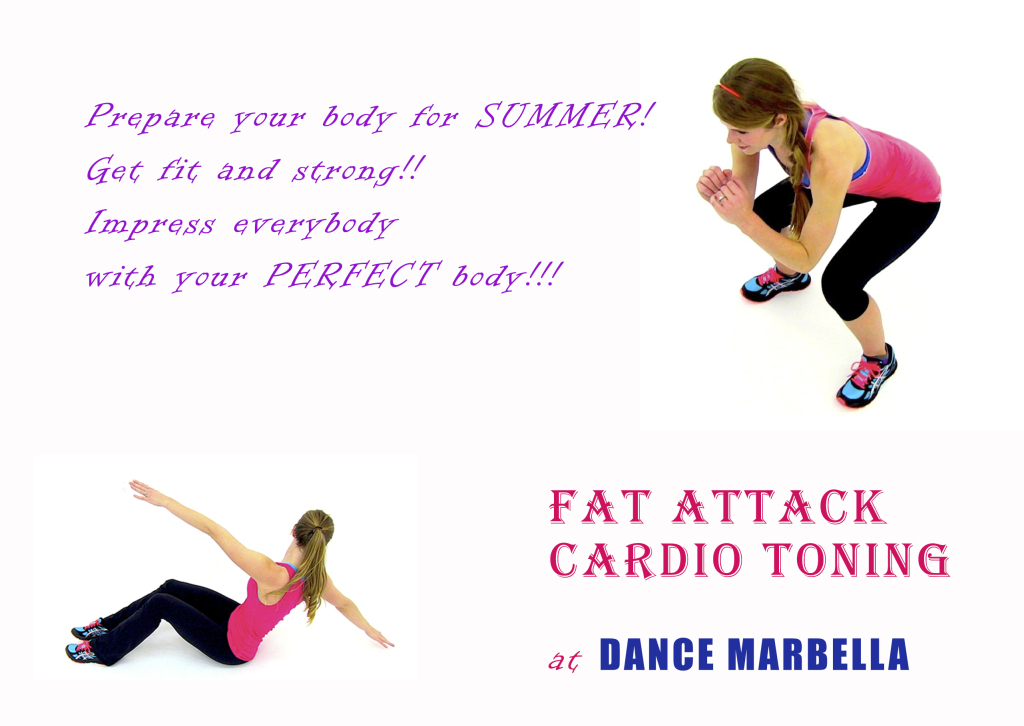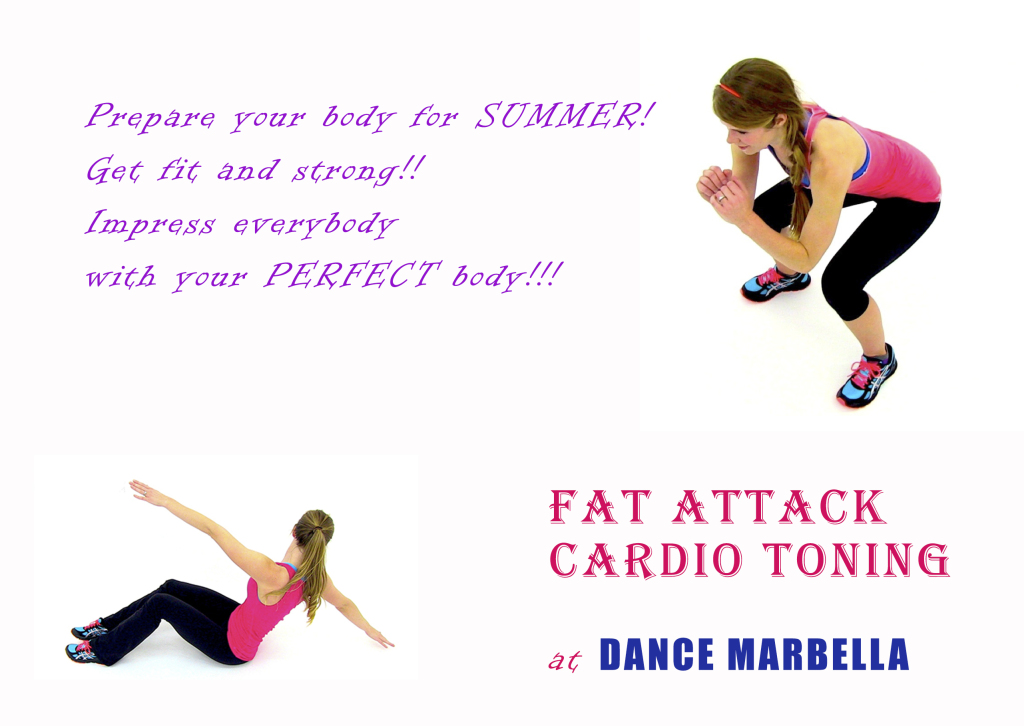 Every Tuesday and Thursday at 11.00 at Dance Marbella!!!
for more info please contact:
+34658962109
Look amazing, feel even better — what more can you ask for? This cardio-sculpting plan, perfect for any body, is the ultimate mind/body booster.

But there's a more important reason to exercise: It makes you feel great. "Good mental health is just as important as good physical health, and exercise is crucial to getting both!!!"
---
Hip Hop classes at "DANCE MARBELLA" are inspired by urban culture and are very popular. Classes are designed to allow the students to let go and dance without being limited by rules of technique!
Classes are athletic and suitable for boys and girls, of all ages and levels. Learn the latest street dancing moves from NY & LA. Dancers will learn to how to control movements as well as get a work out!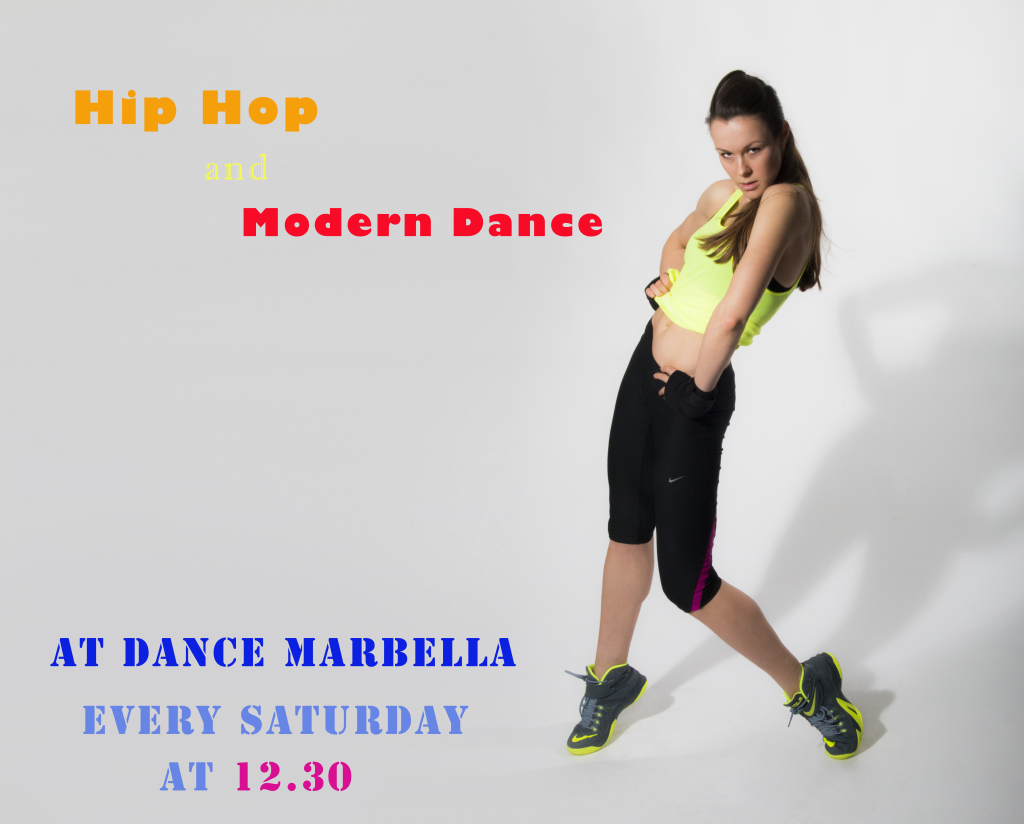 Modern dance places emphasis on exploring emotion and expressing personality through movement.
Dancers make use of steps from established forms of dance such as African and Latin dance, but also create and introduce their own moves to make performances more personal. Modern dance rejects the idea that dance must always be light and graceful, and encourages dancers to make the most of their body weight in order to express themselves.
Warming up is an important part of any dance (no one wants a nasty injury).
---
---
DANCE MARBELLA offers dance and movement classes for children of all ages. Why not give your child the gift of dancing that they can enjoy their whole life long?
Children love to express themselves and ballroom dancing can be a fun and exciting part of your child's weekly physical regiment.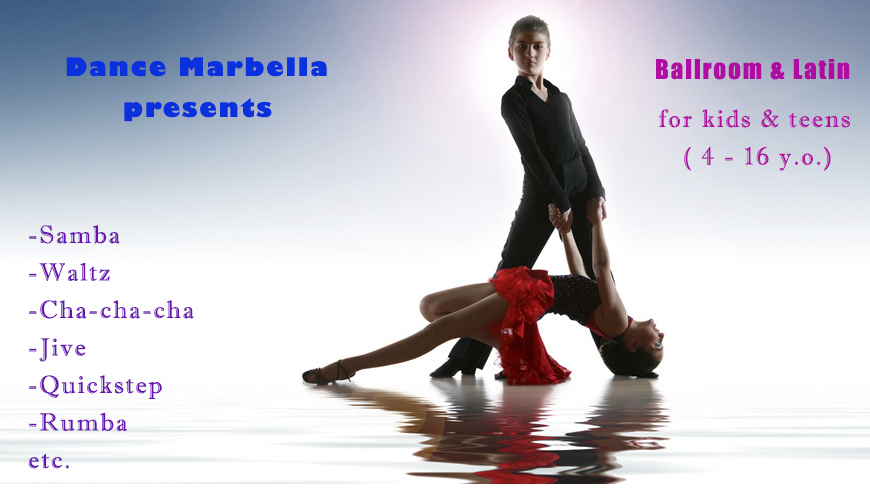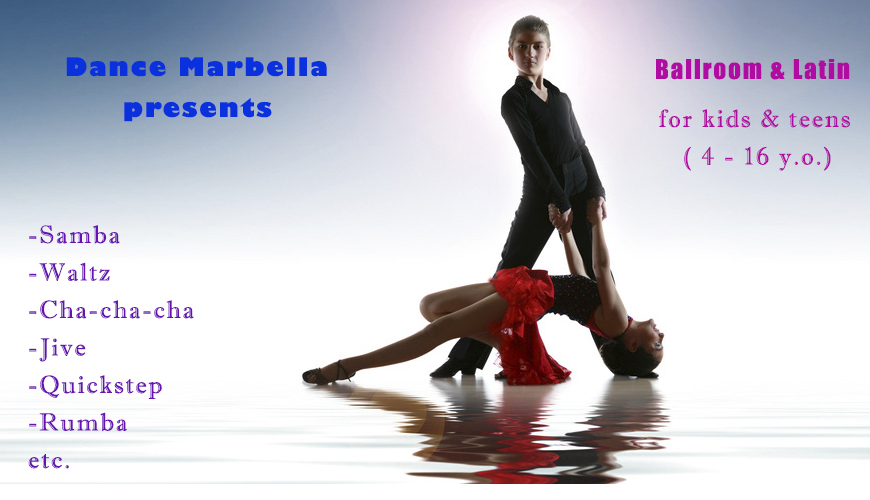 for more info please contact us:
info@dancemarbella.com
+34661064468
https://www.facebook.com/dancemarbella
---
Call and Book your place at our NEW  unique  classes for adults!!!
+34652038711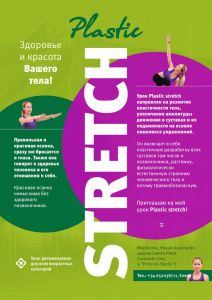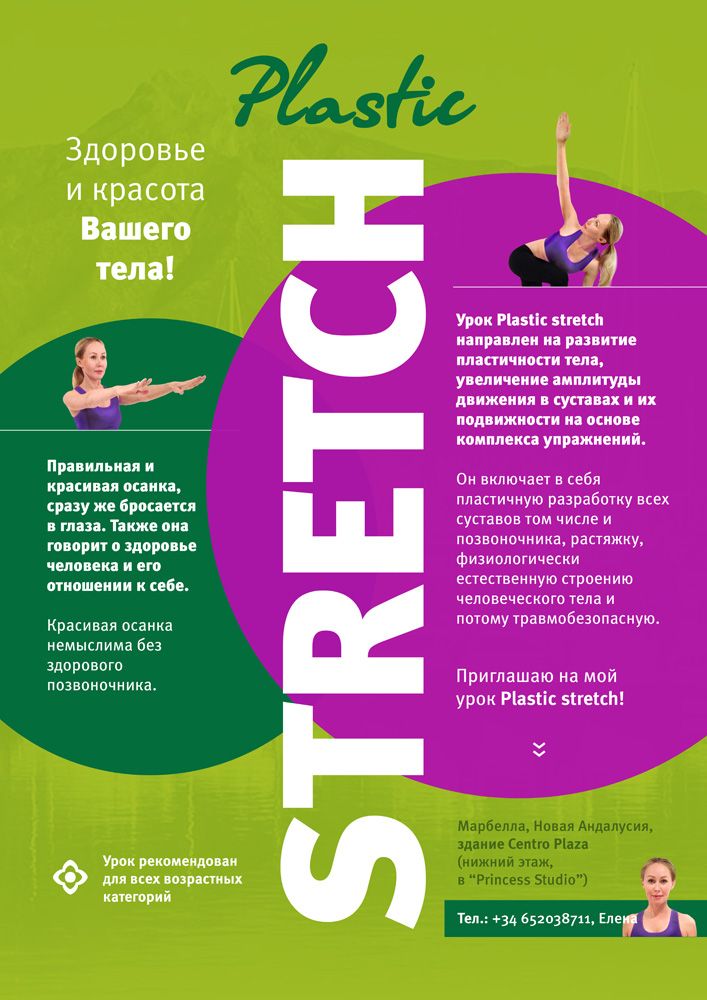 Stretching can help improve flexibility, and, consequently, range of motion in your joints. Better flexibility may improve your performance in physical activities or decrease your risk of injuries by helping your joints move through their full range of motion and enabling your muscles to work most effectively.
Stretching also increases blood flow to the muscle. And you may come to enjoy the ritual of stretching before or after hitting the trail, ballet floor or soccer field.
---
---
for children of the age 4-6 Dance Sport Club DANCE MARBELLA have different types of dances : Samba, Hip hop, Cha cha cha, Waltz etc.
Your kids are gonna love the way we teach – a lot of games, and activities, amazing emotions and fun !!!
come and join up at DSC DANCE MARBELLA
phone : +34661064468
address :
Centro Plaza, M 9, Nueva Andalucia, 29660 Marbella, Spain
---
kids 1 group ( 4-6 y.o.)- Monday , Wednesday, Friday at 16.30
kids 2 group ( 7+) – Monday , Thursday at 17.30
Saturday at 17.00
Teens ( 10 +) – Monday , Thursday at 19.00
and Saturday at 11.30
for more info – please call +34661064468
— at Dance Marbella.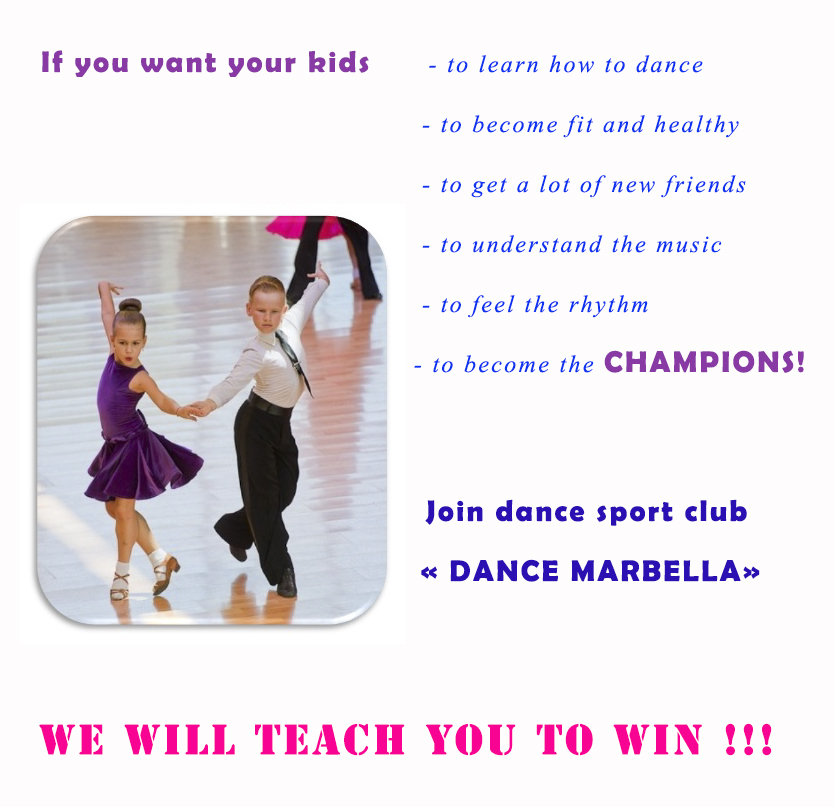 ---
Stretch Classes. Improve your flexibility. • Train your muscles to release their tension • Relieve compression to the joints • Relax the mind.
Stretching is a vital part of any exercise routine as it gives your muscles the ability to lengthen, to expand and restore after exercise. Plus – it feels so good!
KIDS 2 stretching classes – every Monday and Thursday at 18.30
and Saturday at 18.00
TEENS stretching classes – every Monday and Thursday at 20.00
— atDance Marbella.
---
---
---
---