---
---
---
---
---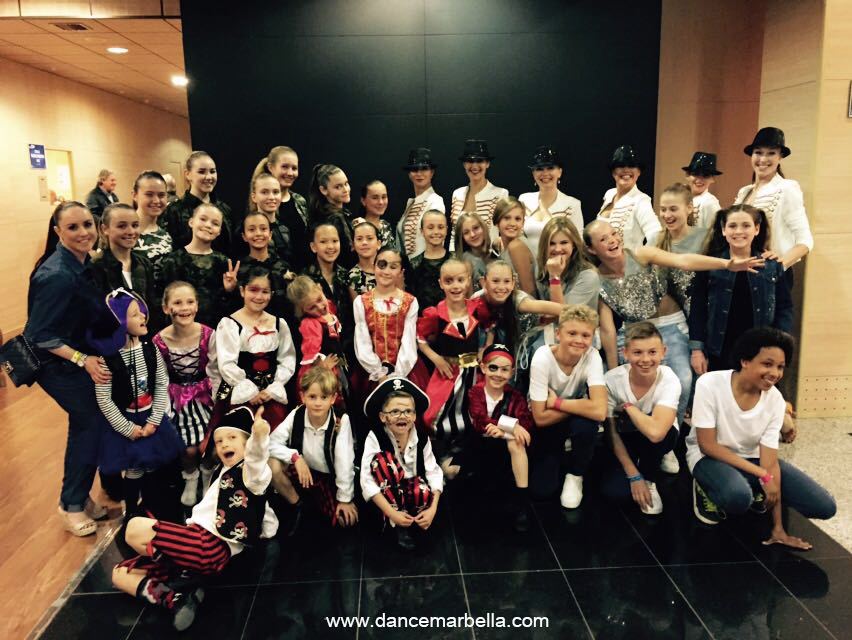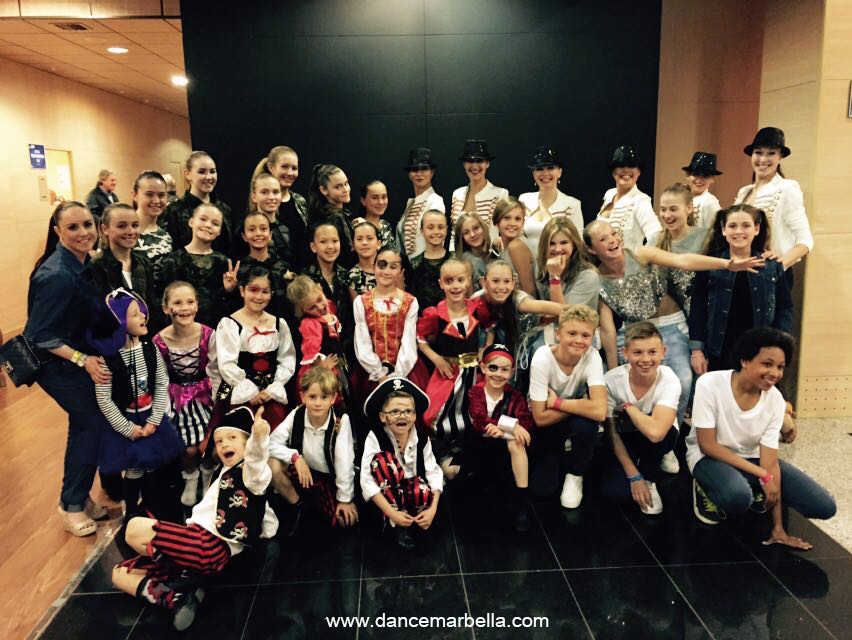 Last weekend , on the 18th of march Dance Marbella students had a great opportunity to participate in annual dance festival FES DANCE MARBELLA , presented by Pitarch´s events !
We had a lot of fun !!!
53 pupils from our dance school were doing 6 different dance shows , Such as "Rock&Roll jive", "Burlesque", Hip hop , Latina etc…
Thank you everyone for your work!
we are feeling very proud of all the students of our DANCE MARBELLA!!!
---
---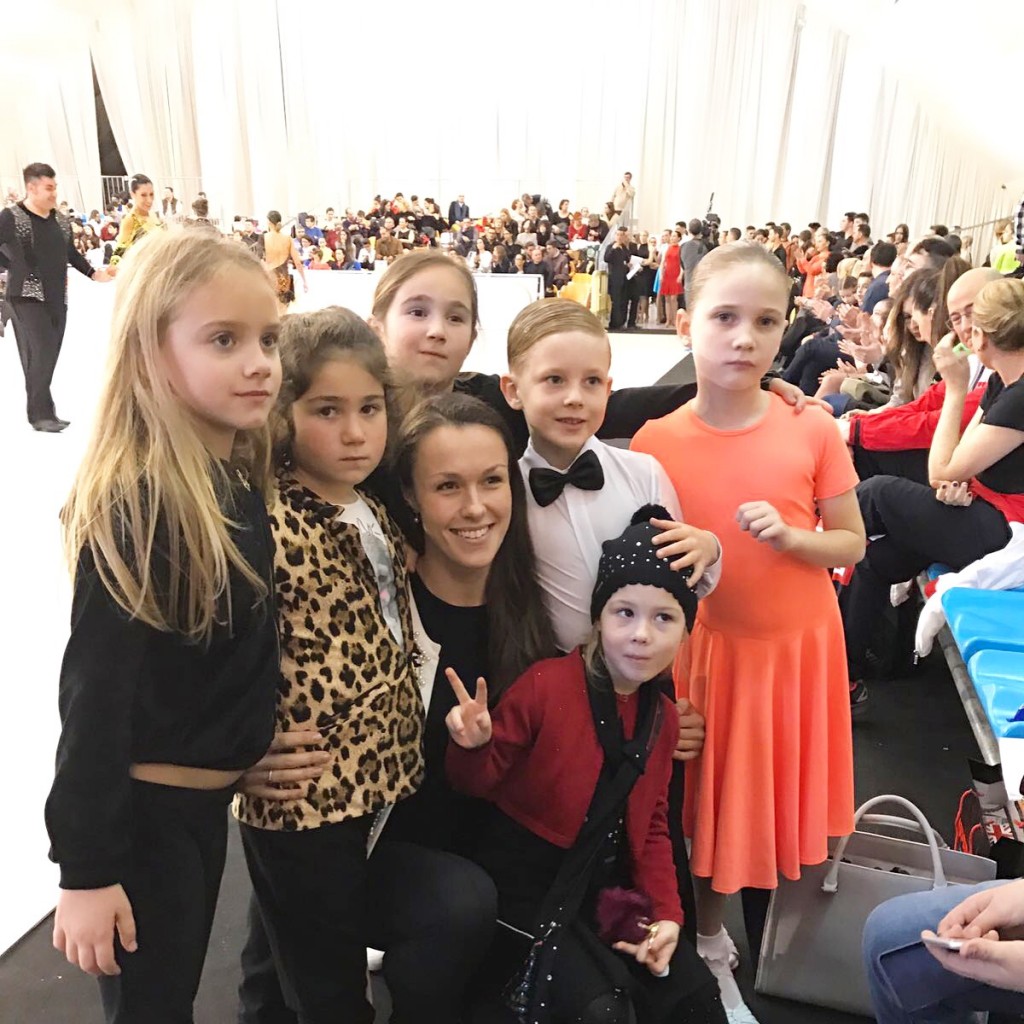 On the 18th of February Dance Marbella couple Anatoly and Fjordess went to a small place not far from Valencia – Oropesa del Mar , where there were taking place the Spanish Ballroom Championship !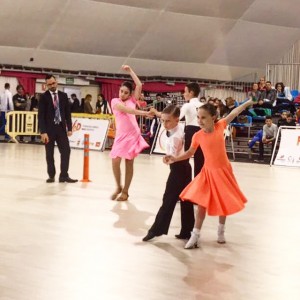 ---
On the 11th of December, our Dance school hold the Annual Dance Marbella CHRISTMAS SHOW 2016 !!!
This year the theme of the event was – "CHRISTMAS CARNAVAL"!
All the pupils prepared their extraordinary costumes and thematic outfits to impress the guests of the performance.
We had :
– Alice in Wonderland
– Pirates of the Caribbean
– little cheerleaders
– funny sailors
– Michael Jackson style
– Military style
– Burlesque and many others.
the show was really great : a lot of positive emotions, happy faces and big smiles, everyone did very well and we are very proud of our Dance Marbella pupils!!!
---
---
this year we had really nice Halloween Party at Dance Marbella !
enjoy our little video report…
---
---
---
---
---
---
Last weekend our new dance couple – Anatoly Praslov and Fjordess Nilson went to Madrid for their 1st competition ever!!!!
They took place in 2 different competitions and 3 categories and eventually had got one "the 1st place", and two "the 2nd places"!!!
We are very proud and happy for them !!!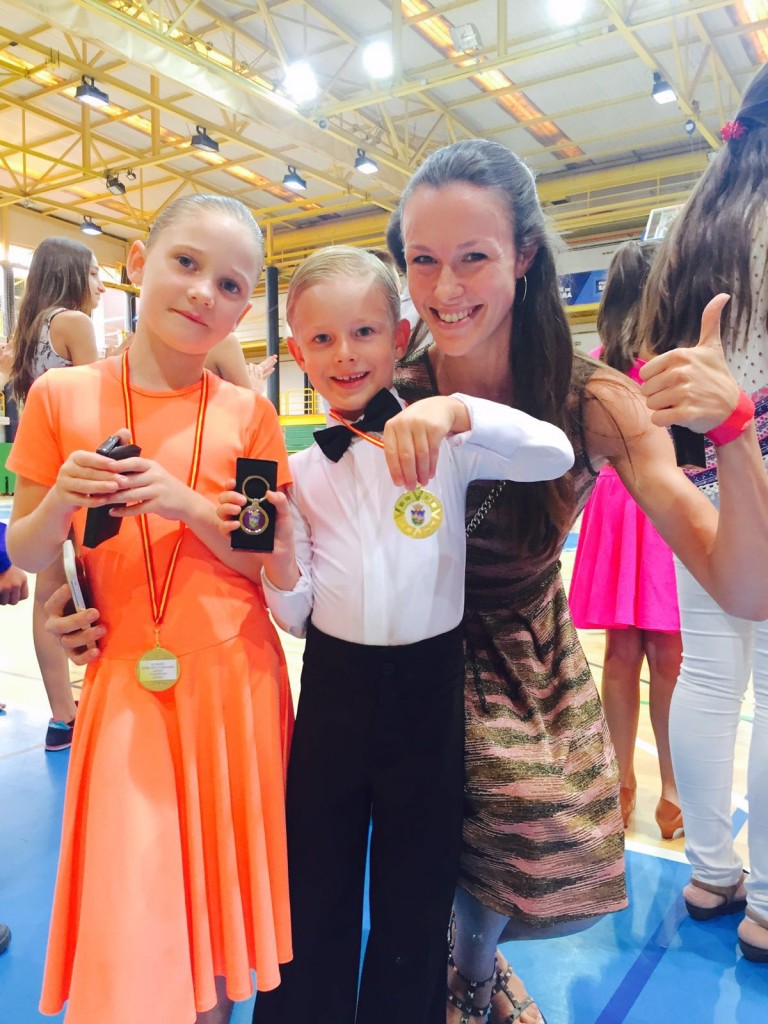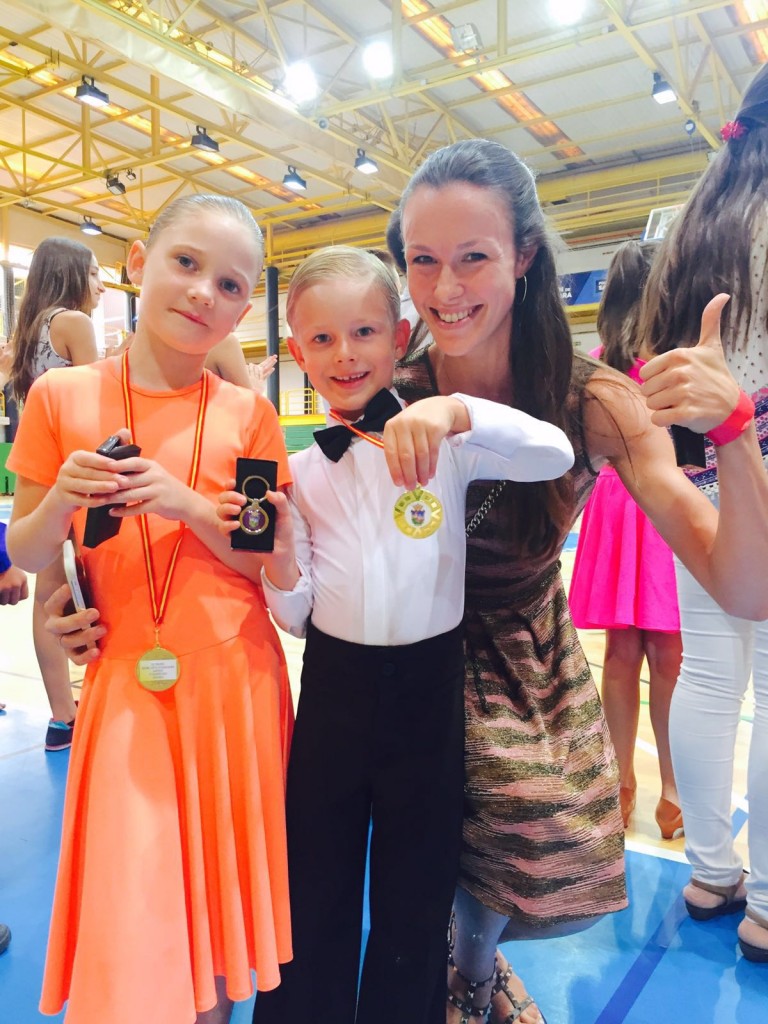 Looking forward for the next competition…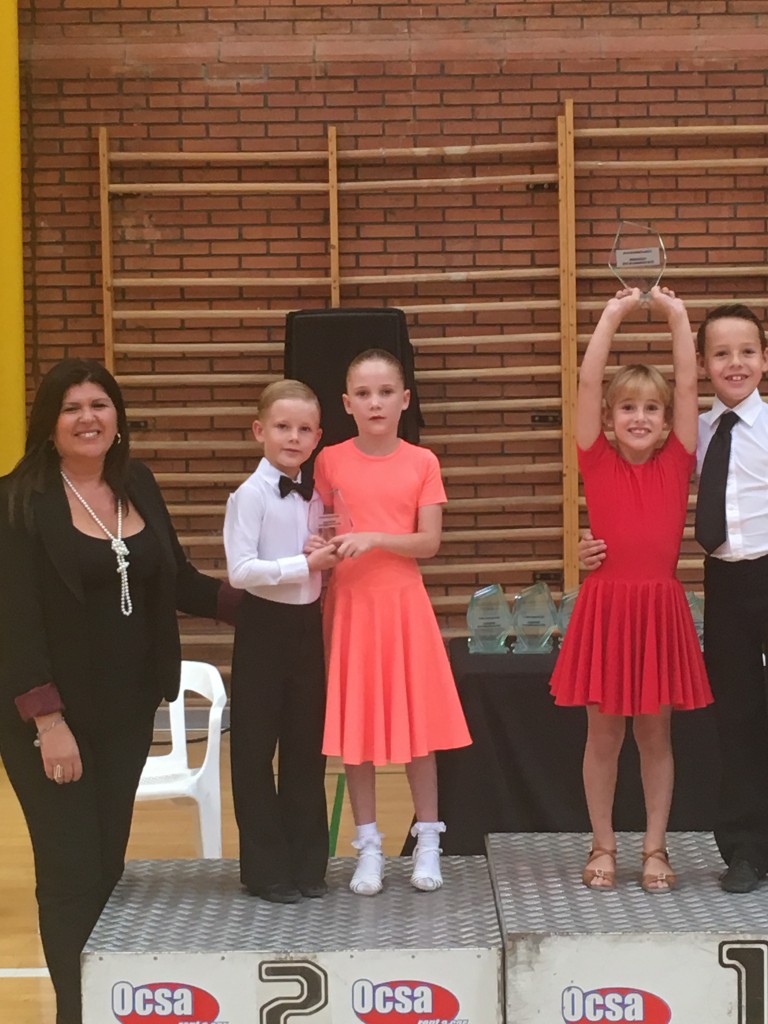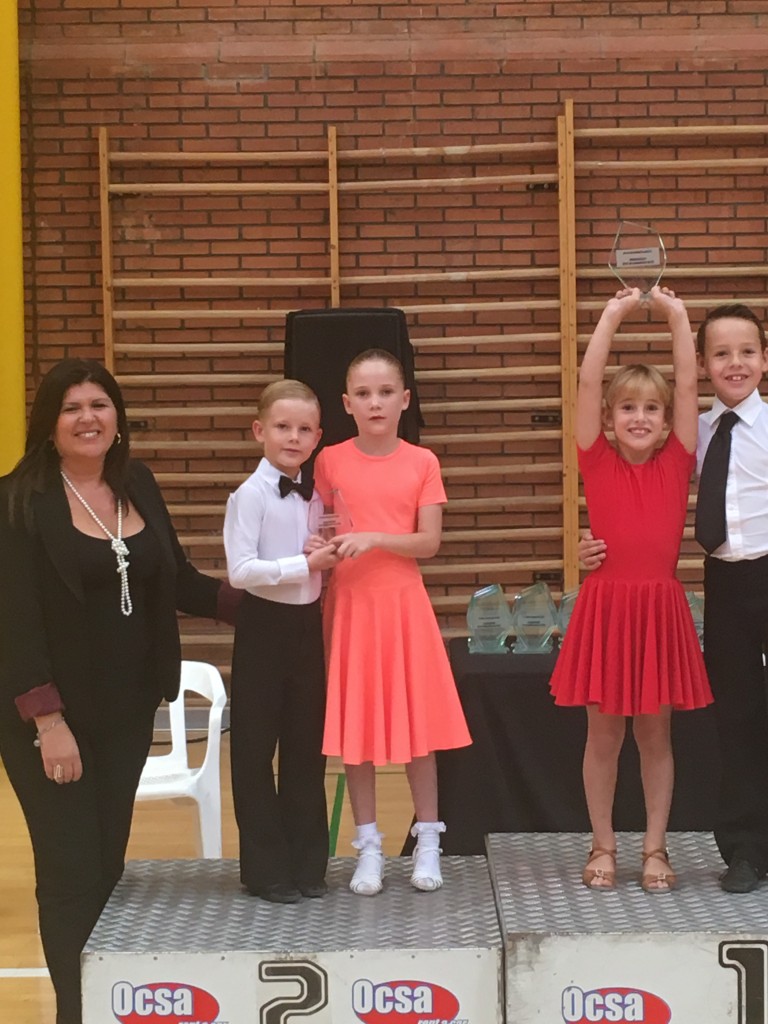 ---
---
Last Saturday , on the 11th of June, Dance school "DANCE MARBELLA" had their annual Show for the end of season 2015-2016!
14 dance shows were presented, more than 60 dancers took part, about 150 guests came to see us , we had great time all together!!!
here you cane see some pictures about oue event…
Enjoy !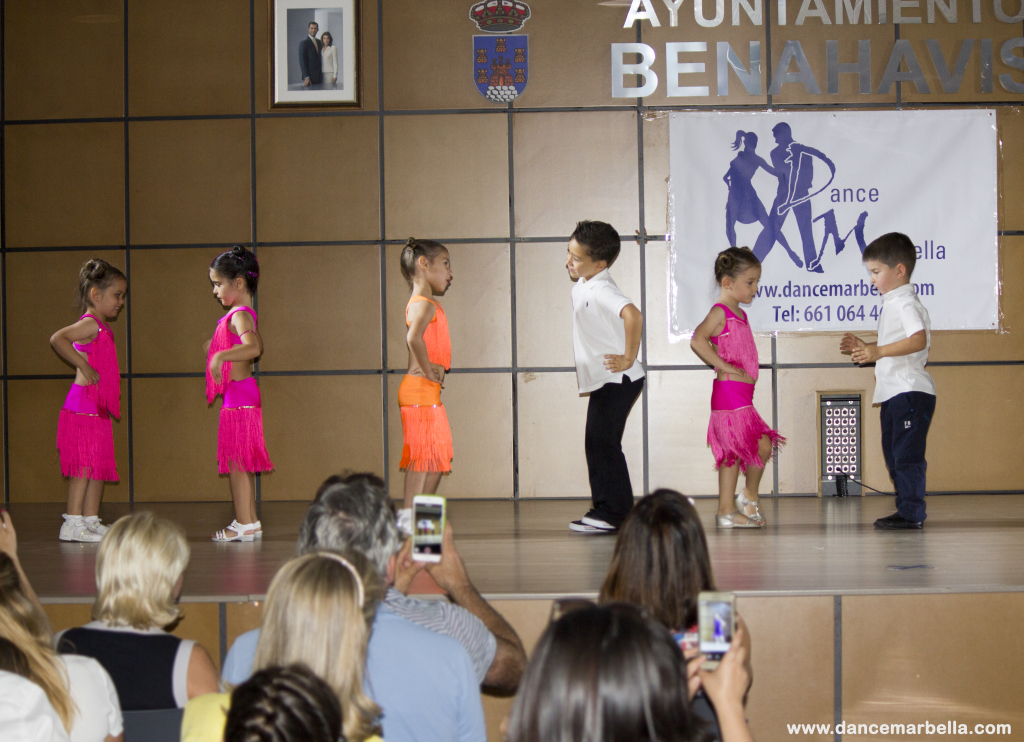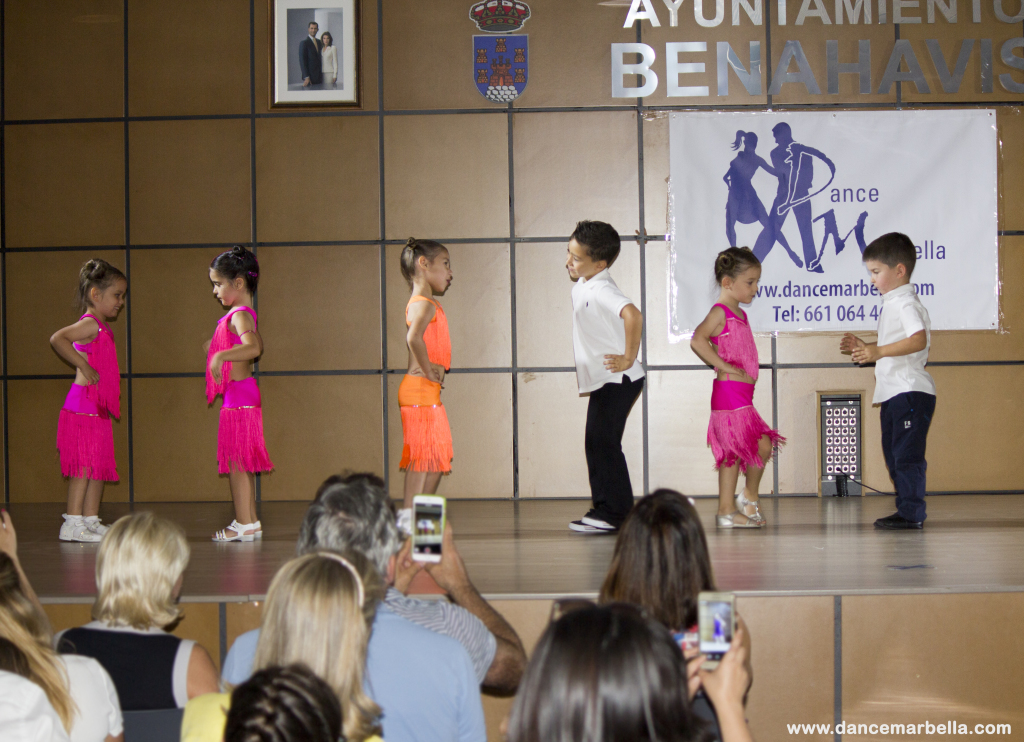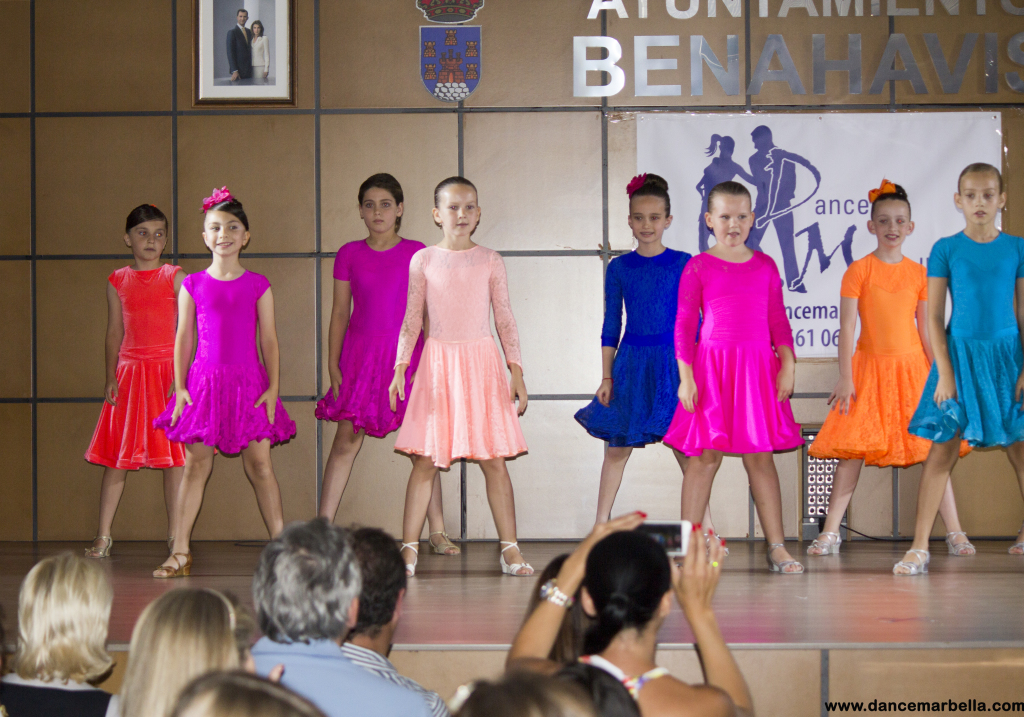 ---
---
Dance Marbella founder and the main teacher Nadia Stepochkina is dancing with the international judge Azar Ashrafov , with the amazing singer Veronica!
show "May be I, may be you!..
---
---
Last weekend , On the 28th of February our couples : Jake + Nicole and Miguel + Masha were participating at their first competitions in Torremolinos, Malaga, at the II TROFEO CIUDAD DE TORREMOLINOS!!!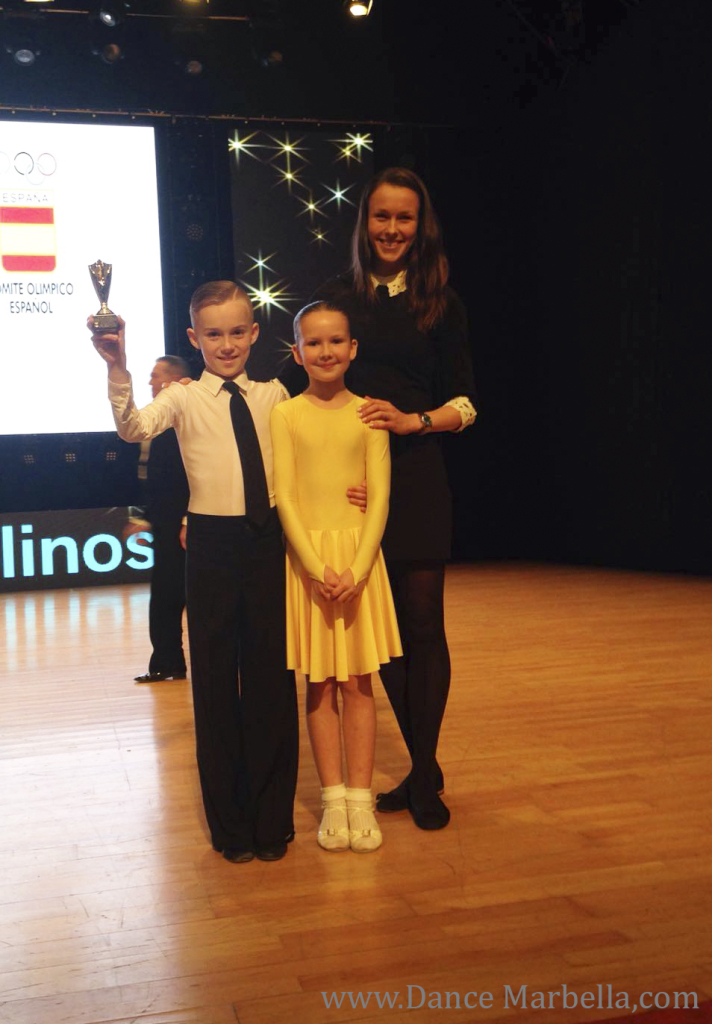 Both couple had great results :
Miguel with his new partner Masha were dancing in the category SENIOR 2 and got the 3rd place!!!and our little ones – Jake and Nicole won the competition in their group "JUVENIL 2"!!!!!!!!!!!!!!!!!!!!!!!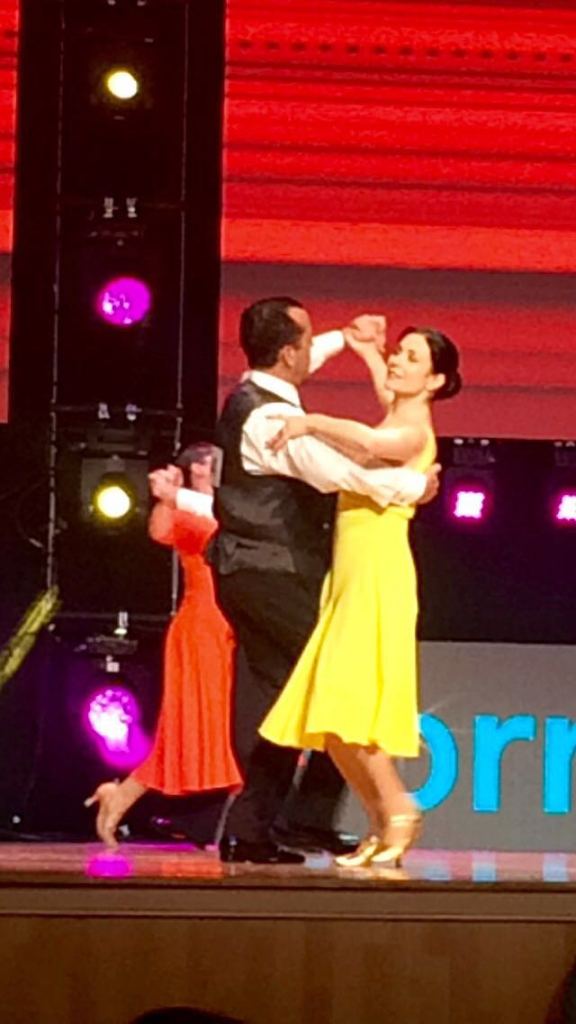 ---
If the title of this article got your attention, you have probably thought of taking your child to a ballroom dance studio. But, if you feel that you are lacking information or "effectiveness" of this sport activity, let me make it easier for you…
Here are a few on point statements on why your child should definitely get involved in ballroom dancing:
Music & Movement
I'd like to start this off from the roots. Do you remember the first time you heard music? Of course you do! You have heard the beat, the melody, a singing voice perhaps. It might have sounded strange at first, but it was so irresistible. Then, there was no explanation to your further actions. You started moving your body, wiggled your hands and legs, and I bet you were smiling too. The best part of this, all of it was natural.
From birth, everyone has the natural feel for music. We can dance to, pretty much, anything. However, if our dance is lacking structure, it will look repetitive, a bit primitive and probably chaotic. The core of ballroom dancing is based entirely on structure, which almost instantly gets applied to music. With practice and some help from instructors, your child will not only develop a stronger inner feel for music, but will be able to apply their moves to it. Not to mention, that it will be done with a partner.
Body Development
You can spot a ballroom dancer from far. A bit of loftiness, flow of movement, and the most commonly noticeable factor – The Posture. "But, Ballet also has The Posture" you might object. True. But, there is an obvious flow in directional movement to a ballroom dancer, which may not be noticed in a ballet dancer. To give you an example: it is fascinating to watch a ballroom dancer go through a crowded place. Since floor craft is trained from an early age, you probably will not see them collide with anyone. Besides, ballroom dancing has a much higher contrast in movement. From slow and continuous to sharp and static. Try running for a minute and a half, make a sudden stop to catch a quick breath, then run faster for another minute and a half. Oh, and while you're at it, keep your hands to the sides and don't drop them down, and do it all to the music with a partner. Got the picture?
Art & Culture
Dancing is bodily expression to music. Regardless, if a dancer does choreography or improvises.(which, essentially, means the same thing, since improv is a choreography broken down and danced in a chaotic pattern). In case of ballroom dancing, expression to music happens with a partner. The culture behind every ballroom dance has been developed over the years, which means, your child will be exposed to some history. Of course, the cultural and historical details for each dance will vary depending on the amount of knowledge of the instructor, but generally, the idea of each dance will be clear. The beginning of the learning process will be strict and bold ("This is Cha Cha, it's coming from Cuba, and this is how you do it…"), but further into the future, more emphasis will be put into the character of each dance, and the expression it could be danced with.
Mutual Love & Respect
We live in a society where violence is not permissive. And, indeed, this is how it should be. But, unfortunately, it seems that mass media promotes more violence, while trying to prevent it. In the age of technology and easy-to-reach information, with the graphical content that accompanies it, we are aware of bad news much sooner, and our children are no exception. At early age common sense and rationality are at early stages of development, thus everything your child sees is taken "As Is". Which means,
So, how can ballroom dancing help to promote peace? Easy! Lead by Example.
In 1994, Pierre Dulaine, a ballroom dancer founded Dancing Classrooms, a non-for-profit with a mission to use the vocabulary of ballroom dance to cultivate the positive feelings that are inherent in every child. Kids are required to partner up, learn different dances together and eventually showcase at a local dance competition. Later, Pierre took the project to his home-country – Jaffa, Israel, where children of long-term enemies – Jews and Arabs, had to learn how to dance together. The results where quite fascinating.
Dreams and Goals
Thinking back, almost every kid I have met in the dance industry wanted to become a champion. Some have stuck to their grandé dreams and reached their goals. Some had smaller goals and did their best to achieve them. It is fascinating to observe the physical and emotional involvement of all – the kids, parents and coaches. And with hard work, to see the dream come true in reality, right in front of you, as a work of art… Always inspirational!
So, you still question if your kids should Ballroom Dance?
---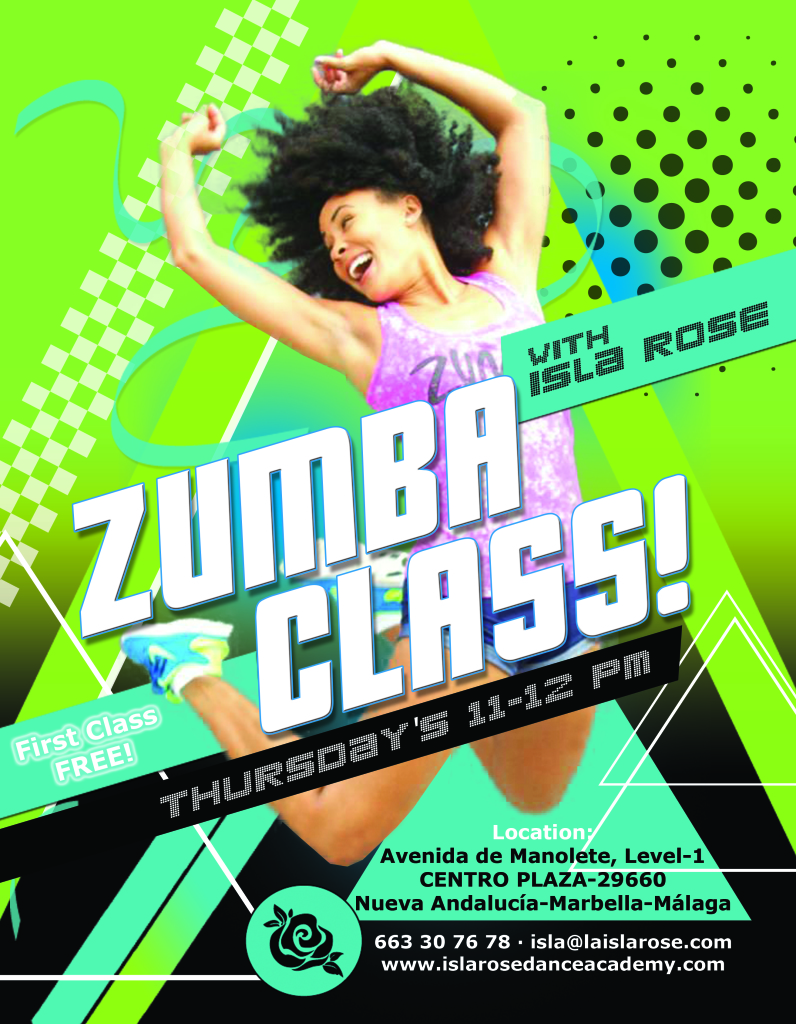 NEW!!! ZUMBA classes at Dance Marbella!
awesome instructor , great fun and good results!!!
for more info – please contact : +34663307678 Isla Rose
---
Dear pupils, parents and friends,
we remind you that the dance classes at our school will start
from the 14th of September!!!!!!!!!!!!!!!!!!!!!!!!!!
for more info – please contact:
+34661064468


info@dancemarbella.com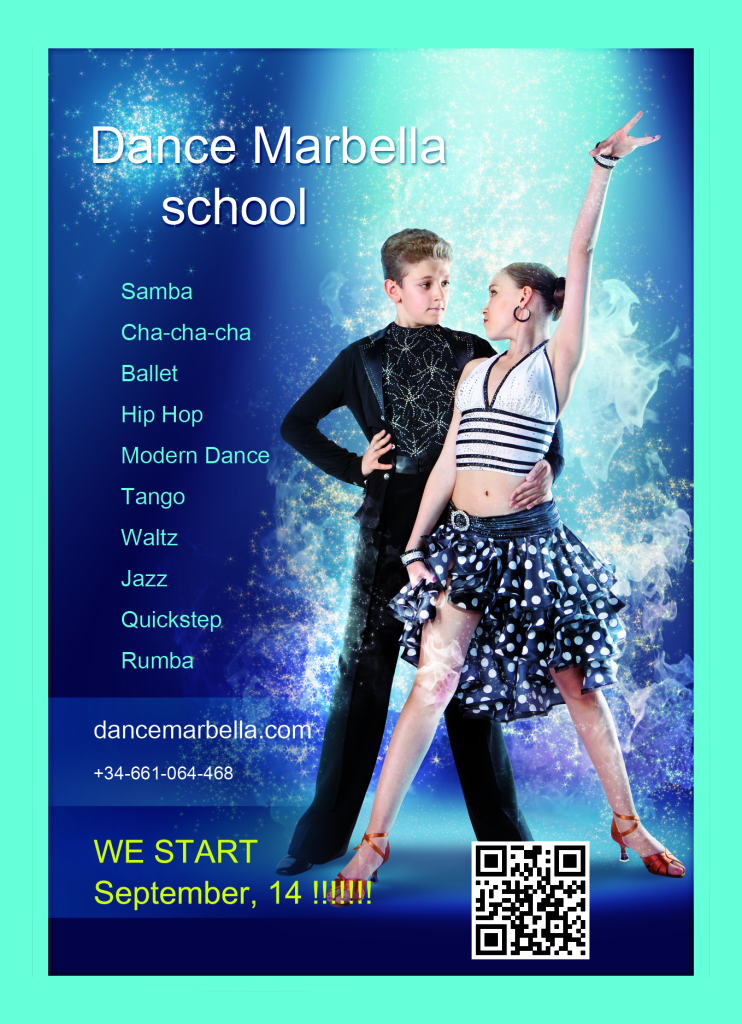 ---
Working hard and having fun !!!
---
Teenagers from Dance Marbella presenting their "JIVE " at the Dance Festival "Unidos por el baile"
Don´t miss the opportunity for your kids to learn this one and many other dances at DANCE MARBELLA SUMMER CAMP 2015
for more info – please contact us : +34661064468
www.dancemarbella.com
info@dancemarbella.com
---
Dance Marbella SUMMER CAMP 2015  program is for boys and girls, 7 years old children  to teenagers, beginners to advanced who love to dance.
Our dance school is quite famous of doing very interesting Dance Summer Camps in Moscow, Russia, and Marbella.
Children of different ages and nationalities are joining this active Summer Camp to improve their physical abilities, flexibility and balance, to try all types of dances and to learn amazing dance routines.
Four exceptional instructors and the best choreographers ready to inspire you. We offer group and private lessons in:
Hip Hop
Funky
Jazz
Latin-American dancing
Ballet
Burlesque
Etc.
Our choreographers create beautiful, powerful and thought provoking dances to highlight your skills and love of dance. We meld modern with traditional and use thoughtful concept and story driven pieces.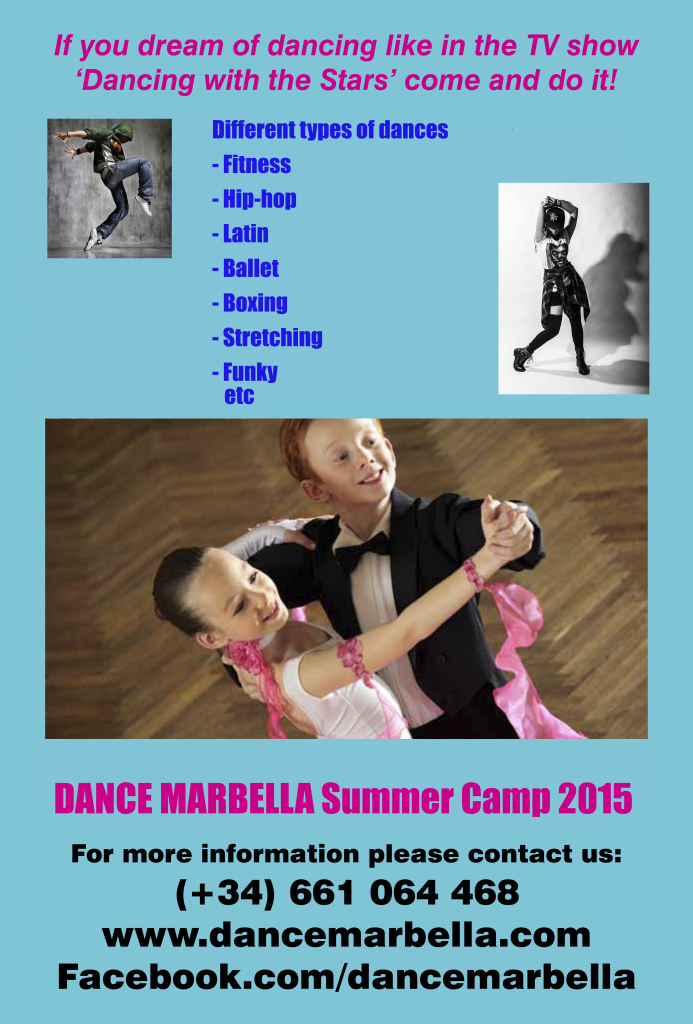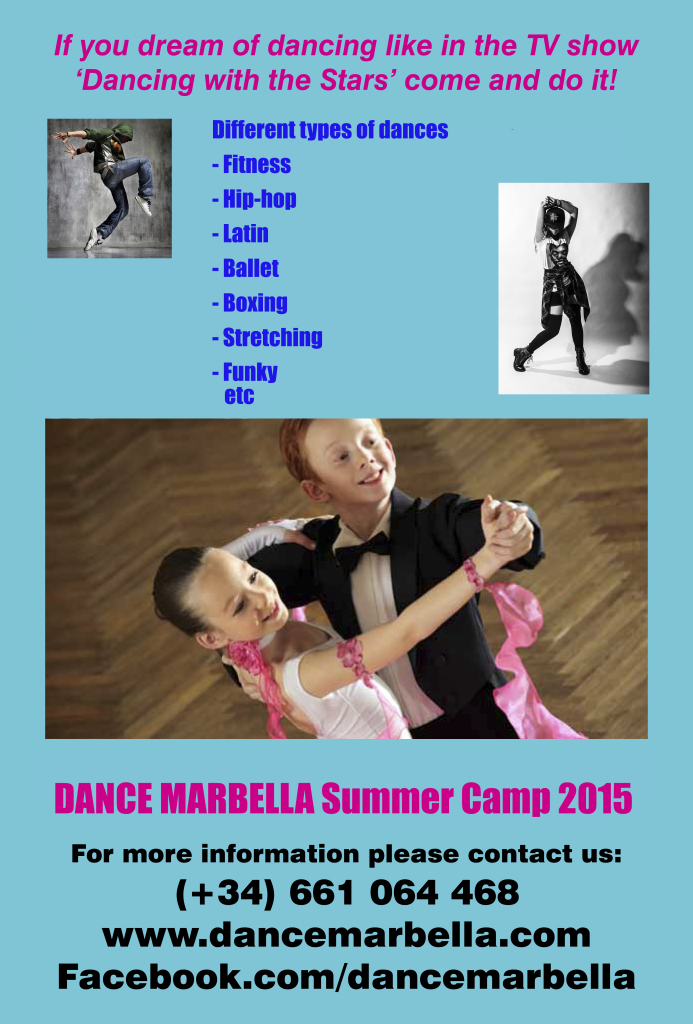 The program : 
15.00 Fitness (exercises for all muscle groups)
15.45 Stretching
16.30 Turns ( different new and very interesting rotations to make you quicker and your balance better)
16.45 "Just Dance" ( dance competition)
17.00 Dance Class (Hip Hop/Funky/Latin/Jazz/Burlesque etc)
18.00 The end
The price :  
25€   – a day
100 €  – a week
The age :    from 7 y.o. till 16 y.o.
The Place : dance school " DANCE MARBELLA"
( located in Commercial Centre " Centro Plaza", very close to Puerto Banus, av. Manolete,1)
For more info – please contact : +34661064468
---
---