What people say about DANCE MARBELLA school…
DANCE MARBELLA. Russian school of ballroom dancing.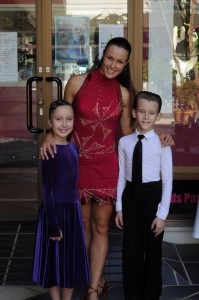 https://www.facebook.com/JavierSancho.MESTO.VSTRECHI.RussianMagazine/posts/10151597101466949
On Costa del Sol, the professional dancer from Moscow Nadia Stepochkina opened the first school of ballroom dancing. Founder of the school is engaged in dancing since the age of seven and was taught by the best coaches in the world. They helped her to become the winner and the finalist of the international Championships in Denmark, England, Germany, the Netherlands, France, Ukraine, Russia, Poland and other countries.
Last weekend in Puerto Banus the big event occurred, which all fans of addictive rhythms and grace will remember – the opening of the Russian school of ballroom dancing. In the Studio, located in Centro Plaza shopping center, for the Grand opening the first guests were invited. Crowded dance hall met with applause young students of Nadia: with the music of the famous Elvis Presley's hit «Jailhouse Rock», they lit public with hot Jive. The presentation continued with Nadia´s live performance, with her partner and brother Vladimir Stepochkin, giving viewers a passionate Latin-American dance.
-"In Spain, children are not so organized and focused, as in Russia. And there was a danger that I'll spend a lot of effort, money and time, but eventually the kids would not work professionally", shared her experiences Nadia. –" I teach exclusively ballroom dancing. The Latin American program: Samba, Cha-cha-cha, Jive, Pasodoble and Rumba, as well as the European Slow and Viennese Waltz, Tango, Slow Foxtrot and Quick-step".
In conclusion of the party Nadia with Vladimir gave a free class, showing basic dance movements, that guests enjoyed.
– "I will easily give lessons in three languages, if it´s necessary", summed up Nadia. – To tell the truth, I did not expect some many people on the first day. To open the dance school in Marbella was my dream. I am happy that it comes true.
One lesson in Dance Marbella school for children from three years old will cost 12 euros. The subscription for a month would cost parents only 75 euros (eight lessons)for a kid. Adult – 15 Euro and 90 Euro respectively. The trainings will be on Mondays and Thursdays in the evenings.
Text and photo: Michael and Kateryna BLOHIN.
You can find more pictures here