Dance school "DANCE MARBELLA"
Is reminding you that from the 27th of June we are starting our Dance Marbella SUMMER CAMP 2016!!!
❗️Duration : 1-2 weeks ( you can also bring your kid just for few days)
❗️Time:

12.00-16.00
❗️Age:

9-17 years old
❗️Place

: nueva andalucia, AV. Manolete, 1

Comercial center "Centro Plaza"
Lower level , dance school "Dance Marbella"
❗️price: 1day – 25€ , 1 week – 100€ ( 25€ discount)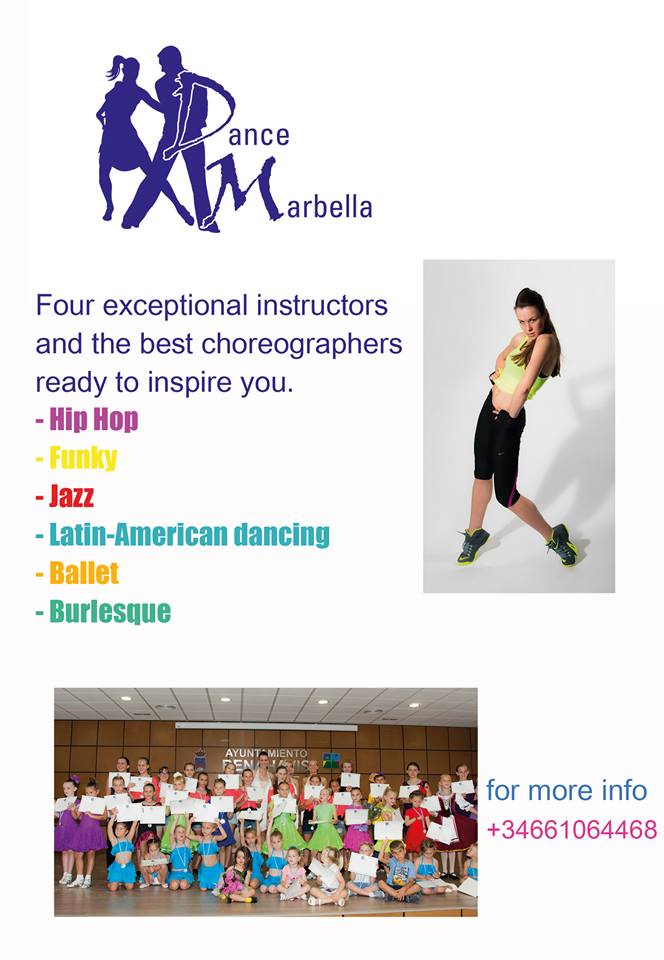 ❗️Timetable :
12.00-13.00 fitness ( different sports , Zumba, kickboxing, dance activities to get fit and strong )
13.00-13.45 stretching ( to get flexibility and relax the muscles after sport )
13.45-14.15 "Rotations" ( the special class of different kinds of turns to improve the balance and speed )
14.15-14.40 "Just Dance" – interactive dance game-competition
14.40-15.00 quick lunch ( kids bring with them some snacks / fruit/ nuts/ sandwich/water etc )
15.00-16.00 dance class ( every day we will have a new dance style with a great professional teacher , preparing interesting choreographies and learning new rhythms ) Hip hop , Jazz, Latina, funky, burlesque, cheerleading etc
Don't miss a great possibility for your child to learn something new , get fit and strong, meet new friends!
We looking forward to  to see all of you!
✅If you are interested – please book in advance your place in a group ( it s limited)✅
Best regards,
Nadia